FabPro 1000
This entry-level 3D Printer offers industrial durability, reliability, compact platform, professional quality. It's also simple to use – from setup, material loading and file configuration to post-processing, cleaning and maintenance. No special training or certification is required for the FabPro 1000 due to an intuitive design and easy-access print chamber. Replacing print trays and switching materials is a snap, and post-processing is seamless with an included finishing kit, and an optional light-based LC-3DPrint Box UV post-curing unit for required cleaning and curing. The FabPro 1000 excels to deliver improved accuracy, speed, and cost-efficiency compared to other systems in its class (as found in internal testing at 3D Systems).
45% faster average print speed – up to 21mm/hr
22% lower average part cost
Layer thickness as small as 30 microns
Six Sigma Repeatability – consistently print accurate parts
Artforge Studio Uses FabPro to Expand Capabilities with 3D Printed Jewellery Patterns
Artforge Studio is the workshop of an artisan based in the United Kingdom specialising in innovative and imaginative designs using 3D Systems' entry-level industrial 3D printer, the FabPro 1000.
The printer's accuracy, ease-of-use, and cost-effectiveness as well as the quality and resilience of the material makes the FabPro 1000 is a useful tool for expanding creative ambitions.
Produce Parts in Hours, Not Days
Produce models in hours, not days with the FabPro 1000. Compared to competing systems, the FabPro 1000 can create higher-quality parts with precision and smooth finish at up to three-times-faster high-throughput print speeds.  How? Our technology uses a projector to image each layer for easy and precise printing, with the ability to build several smaller parts on a single platform for increased productivity.
"Where the machine does win is on speed. A part using the Tough material, for example, might take five hours – and less if you went for the grey prototyping resin instead. A Formlabs Form 2, running an analogous material at the same layer height (0.05mm), would take over 12 hours to build the same part."
– Develop3D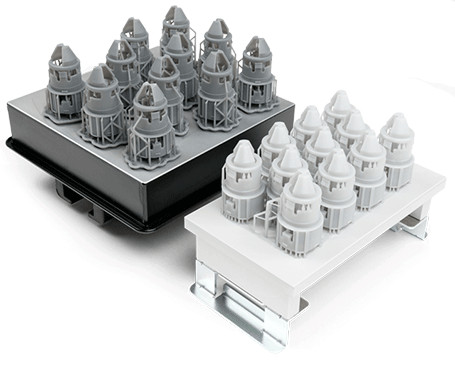 Lower Costs, Delivered
The FabPro 1000 is engineered for material efficiency and consistent, repeatable run times, making 3D prototyping and production more accessible and affordable than ever before. 3D Sprint® file preparation and print management software helps manage material usage with less waste with optimised print builds and support structures. This combination of fast print speeds and optimized printing all leads to lower part costs and lower Total Cost of Operations (TCO).